Once Gandhi Ji said that, a woman is not less than a male in any aspect; be it her mental strength or her intellectual strength or her spiritual strength, she has the potential to work actively in every sphere of the life! Be it Sita in Ramayana or the Rani Lakshami Bai of Jhasi, each of these women have made remarkable changes to the society. In a country like India where woman have been put to various atrocities inside and outside the household, there have been men like Rama Krishna Paramhans also who have worshipped their wives. Woman, in India, though had been from ancient times, given the position of Goddess, with each passing year the respect gradually took the form of various types of atrocities against women. Article 14 of the constitution of India gives equal right to women in par with men.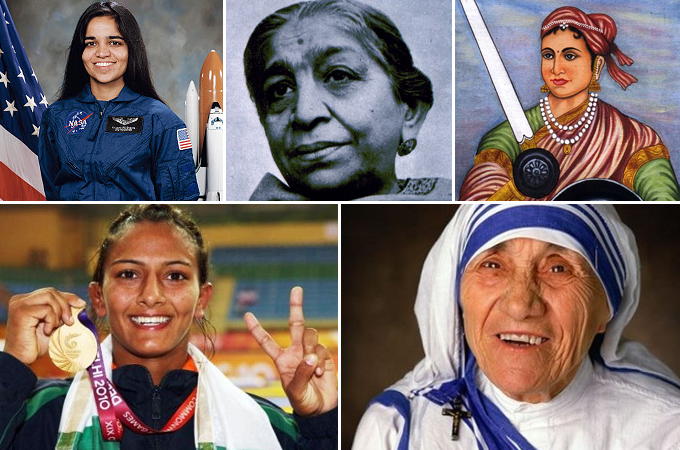 India has acted at the front and found ways to ratify international covenants and UN conventions like Beijing Platform for Action and CEDAW (Convention for elimination of all forms of discrimination against women).
Around the world, India is only one such country where women are worshipped as Shakti, the Goddess of strength, Saraswathy, the Goddess of knowledge, Lakshami, the Goddess of prosperity.
There is no other country in the world where womanhood is considered so pure. As per the Hindu Mythology, a man's woman is considered to occupy his 50%, physical, mental and spiritual space. Lord Shiva has shown this in his Arthnareeswarar form.
There have been many women in history and in present in India who have made their foot print. Some of those women are:
Auvaiyar, Annie Besent: The first female president of Indian national Congress.
Nevedita, Vijayalakshmi Pandit: First woman to be the President of UN General Assembly.
Pratibha Patil first: first female President of India.
Besides this, some other woman to have been taken India to great heights include, Mother Teresa, Indira Gandhi, Kalpana Chawa, Geeta Phogat, Sarojini Naidu, Indra Nooyi and many more. Woman in India have proved themselves in every field; be it the corporate sector or the technical or the politics. Woman's contribution to the society has always been precious, for they have the power to take a work forward successfully to completion.
Women in the modern world are playing a significant role in the society and have even challenged men at various occasions. The role she has been playing both at workplace and at the household, her courage to successfully build her family and simultaneously help in the development of the society is tremendous. In almost every walk of life women have been rising over their conventional roles and started walking shoulder to shoulder with men.
International woman's day, is celebrated with fervor and gusto just like in various other parts of the world, to celebrate the motherly, gentle, beautiful yet powerful character of a woman. It's obvious that, if she keeps on contributing to the society in the similar manner, even in the country like India, the menace of women exploitation which has been holding back the progress as whole will be eradicated soon!
Know About – Most Inspiring Women in History