And, you are born with the attitude of never giving up then you will without any doubt win any battle of the Universe. You must have heart bout this phase often but a little of its application can register your name in the list of famous people. You will never expect and success will just arrive at your door step.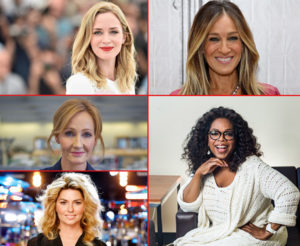 There are proofs that have made those some of the most inspirational quotes true and they themselves have become inspiration for the world. Although, in this patriarchal society, it is hard for the females to come out and prove to be successful, there are a few of them who have proved that theory a wrong one.
To make people believe in the strength of women to fight it all alone, we have collected some data about the success stories of some of the women out there.
1. Sarah Jessica Parker
Parker was the youngest among the family of all the four siblings and she was born in the poor coal mining town of Ohio. In the small age of two, Parker's parents divorced and very shortly her mother remarried and had four children with her second marriage. Her stepfather was a truck driver and he often remained away from his home. Parker, very soon started singing and dancing in order to feed her big family. In that way she helped her mother in running the household in a smooth manner.
It was her mother who understood the hidden talent of her daughter and started encouraging her to go ahead, in spite of the poor condition of the family. Later on, when the family moved to Cincinnati, Parker got enrolled in a music and theatre school on a scholarship. Then she was encouraged by the family to take up an audition for a Broadway play for which, her family took her to New York. Thereafter, Parker decided to keep no stone unturned and she became the main character of a famous TV show.
2. J.K. Rowling
It was not that easy as it looks today for J.K Rowling!! She was just bankrupt and a series of bad things happened in her life before she decided to pen down Harry potter and the philosopher's stone. She just went through a bas phase of her family and got divorce and was surviving on a Government aid. She had no money to feed her little child whose custody she had won! All this happened just three years before the success of the book harry potter in 1994.
When she was sending the book to the publishers, she did not have enough of money to buy a computer or to photocopy those 90000 words and so she wrote it all manually to send h copy to the publishers. She never gave up even if her book was rejected a dozen of times and finally that patience of hers resulted into getting it accepted by a small publisher of London called a Bloomsbury that decided to give the book a second chance because the 8 year old daughter of the CEO had already fallen into love with the book.
3. Shania Twain
It was not the ambition of Shania Twain that took her to this level but it was necessity that helped her find her potential. She was only two when her parents divorced and she could not even remember her father. She noticed that it was becoming hard for her mother and the stepfather to take good care of the family and so she started singing in the bars just at a small age of eight.
She sadly remembers the time when her mother would wake her up at any time of the day just to perform. It was merely she was of 21 that` her mother and the stepfather were killed in a car accident. At that time Shania Twain decided to put in full stop to her career so as to take care of three of her younger siblings. She decide just to sing in resorts and put off the idea of getting through stardom until she could see her siblings look old enough to stand for themselves. And, she only started it again, only when her youngest brother graduated successfully. Here courage is another example of a never giving up attitude.
4. Emily Blunt
Emily Blunt ones thought that she could not be able to talk normally to someone like she always wanted to. Between the age of 7 and 14 she could not even talk or converse with her class fellows as during that time she suffered a major stammering in her voice. She had often found stating that, though she was a smart kid, she could not say whatever was on her mind. She lived this haunting life for many long years. She had gone through a lot before coming on the platform where she is getting nominations for Golden Globes and doing many leading roles.
Her poor condition took a turn only when one of her teachers encouraged her to participate in the school play. And, she went for it even after knowing that she has problem communicating. But thankfully here teacher helped her to learn character voices and accents and that worked out for her. And, finally she became completely normal and she no longer spluttered and started excelling in her career!
5. Oprah Winfrey
Oprah Winfrey is a great name today but only a few of us know about the story of her struggle! As a child Oprah had to go through a lot and people discouraged her in many ways including racism, weight, questioning on sexuality, criticism and many more. But it is the story of her courage that we need to learn from that she never gave up and never let all this come in the way of her career and ambitions.
She was also molested by her uncle, cousin and a family friend while she was growing up. Not only that but she had also been a victim of sexual abuse that actually shook her. While she was 14, Oprah, became pregnant and she delivered a child at this tender age. But, the child passed away only after two weeks. But even all this could not stop Oprah and she went on to completing her high school and went to college on a full scholarship. Later she went on to become a local network anchor and then became an International superstar. Late on she also created her own network called as we couldn't help ourselves.
Read More About Us – International Women's Day 2018