An inspiration for many out there!! The story of the Phogat sisters, who have, with their velour proved to the world that nothing can diminish your potential, a woman, who,  in general believed to have feeble physical stature can even fight into the wrestling ring and can win against the male. One thing the story of this great family who took all the shit of the people to encourage women to be a part of something like wrestling which is generally not considered a women's cup of tea is that, it is we, the society as a whole who can instill a sense of faith in their minds and make them achieve what they would not have ever imagined. In case of Geeta Phogat or the Phogat sisters, their parents or their father mahavir Singh Phogat who, without listening to people's discourse of keeping their daughters go with the long standing rule of women looking after the affairs of the family and kitchen. He gave us all an inspiration to help women by being bullish to the potential of women and show up their real potential.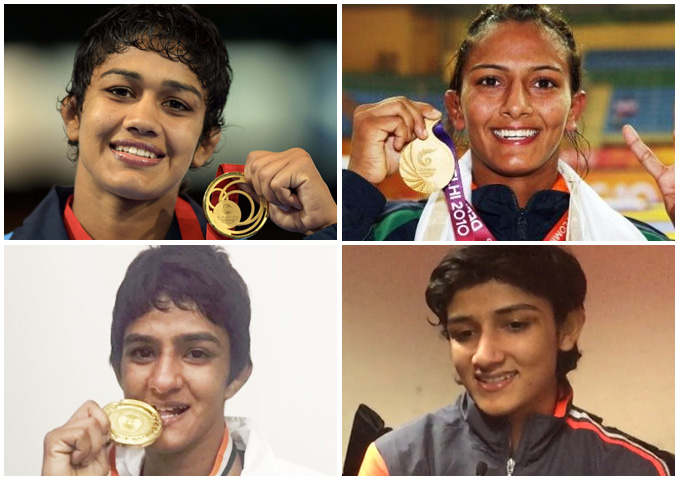 A LITTLE TALE OF THE PHOGAT SISTERS!
In a place like Haryana in India, girls hardly think of competing with men in the wrestling ring. Their parents have the biggest dream of getting their daughters married as soon as possible and get free from the responsibility. Nevertheless, as said, exceptions always exit who transform the face of the society with their velour. One such example is the story of the Phogat sisters who have proved that there is nothing like hardship and bad luck, if you are disciplined and are following your dreams honestly. Phogat sisters hail from Haryana, India and all six sisters Geeta, Babita, Priyanka, Ritu, Vineshhave and sangita excelled in wrestling. Vinesh and Priyanka are the daughters of Mahavir Singh Phogat's brother who died in a family feud, after which Mahavir Singh Phogat took care of them. Geeta, Babita, Ritu, Vineshhave are the daughters of Mahavir Singh himself. It was he, who realised that, wrestling is there blood, doesn't matter if it's a boy or a girl, he will train them and take up his dream of winning a Gold medal for India which he could not win because of the circumstance.
Their success has particularly drawn attention from across the country, for Haryana being such a place where the social issues like gender inequality, female foeticide and child marriage is prevalent. Whereas, three sisters, Geeta, Babita and Vinesh are Gold medallist of the commonwealth games in different weight categories, Priyanka, Ritu and Sangita have won silver medal at the Asian Championships, gold medallist at National Championships and age-level international championships respectively.
MAHVIR SINGH PHOGAT: THE MAN BEHIND
Mahavir, who belong to Balali village in Bhiwani district, adroitly took up all the abhorrent comments of the villagers, showing up belief in his daughters and thus believing in his dreams. He enamoured serendipity for the village to their daughters to him, to his family by sticking to what he believed in!  With a pervasive belief in the power of women, he showed that, women are not only competent enough to work towards their own dreams but they can become "harbinger of hope", for fulfilling the dreams of many out there.
He got inspiration, to get his daughters involved in sports like wrestling, when in 2000, Karnam Malleswari from India, won the first Olympic medal in wrestling. His inspiration come from, the idea of his own coach, Chandgi Ram, who even in worst circumstances made his daughter to learn wrestling. Though, at times his wife, Daya Shobha Kaur would be worried for his daughters, and about their marriage, that who will marry her Pehelwan daughters. But that thought was not enough to wobble his faith. He did not even care, about people, that by bringing his daughters into wrestling, he is making the village become a sham for the country.